Client

Love
"Dear Jenna, Thank you for everything you did for us on our wedding day. Thank you for making the planning process so easy. The ceremony looked exactly how I had imagined and the red couch was that special touch I was hoping for. A big thank you to your team behind the scenes. Love Cassandra + Adam"
Cassandra + Adam
"It is hard to put into words how incredibly grateful and lucky we were for 'By the Oaktree' to be able play an integral part in making our wedding day so special and unique. From our very first contact, Jenna and Daniel were so personable, flexible and professional and they both really took the time to know 'us' as a couple, and the style and feel that we wanted to create. The best part about 'By the Oaktree' was, knowing that we didn't need to worry about a thing on our wedding day! They made our day so stress free and their styling and attention to detail was absolutely breathtaking."
Abby + Simon
Hi Jenna
I just wanted to send you an email to thank you for all of your amazing work!
I knew you would do a good job, but when I arrived at Russells, I was completely in awe! It looked more than fantastic! It was everything I imagined and wanted plus some.
Thank you for being so easy to deal with and friendly and just great!
We went to Russells just before the reception began so Belinda could take some snaps of us before our guests arrived, and I just couldn't believe my eyes, it looked freakin amazing!!!
I have to admit I was so nervous before the ceremony, I didn't really take it all in til after we stopped for a drink and saw all of our friends and family sitting around on your lounges and chairs, playing games and sitting on the rugs just enjoying themselves. It was seriously exactly what we wanted!!
I don't think there was one guest who didn't comment on the styling and games.
You're a star and I will be recommending you to everyone!!!!
I can't wait to see some pics!!
Thank you thank you thank you!!!
Anni and Ben xxxx
Annika + Ben
"Hiring 'By The Oaktree' for our wedding was the single best decision we made. They were able to fit in with our (rather tight) budget and offer us ideas and suggestions on items that would best suit our venue. On the day, they worked so hard to make our ceremony site and reception venue look perfect and their attention to detail was amazing. They took so much stress out of our day and we felt so relaxed and comfortable knowing they had everything under control. We truly couldn't have been happier with their work and would recommend anyone, no matter what your budget to look into how 'By the Oaktree' can use their skills and expertise to make your day even more perfect!"
Sophie + Toby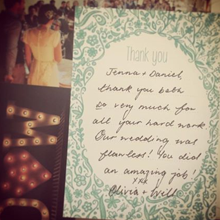 "Jenna + Daniel, Thank you both so very much for all your hardwork. Our wedding was flawless! You did an amazing job! "
xxx
Olivia + Will
"You both did such an amazing job styling our wedding venue to make our big day so unique and special! We cannot thank you enough for all you did. From our first contact, you were so warm and friendly. You were both full of ideas which calmed both of us as we knew you had a great understanding of what we wanted for our day. Thank you for your accepting and calm demeanour around stressed family members to make the venue exactly what we wanted. You made the barn or as our friends and family know it "the man cave" into a brilliantly chic setting for our wedding reception. We have had many comments on how AMAZING the barn looked and many guests were in disbelief with the transformation. Thank you for all your endless hard work and dedication on the day and leading up to our special day. Our wedding day was perfect and we can honestly say that it wouldn't have been the same without the efforts of both of you."
Georgina + Jarrod